South American discus fish are a colorful and fascinating addition to an aquarium, but do they thrive well in a community tank? Their distinctive coloring and shape make these fish a unique feature in freshwater aquariums. Discus fish—also called pompadour fish—have inherent characteristics that contribute to their compatibility with other fish.
Here is what aquarists should know:
How Many Discus Can be Kept Together?
Discus cichlids don't like to be alone, but each fish needs at least ten gallons of water to survive; therefore, a pair of adult discus fish need, at minimum, a 20-gallon tank. A pair of young discus fish can thrive in a 15-gallon tank, but they will outgrow it as they mature. In a community tank we suggest at least a 55 gallon aquarium (sponsored).
Can I Keep One Discus Fish?
A single discus fish can become bored pretty quickly. They swim about slowly and prefer to move in schools with other fish. If you do get a solo discus fish, make sure that you keep it in a tank (sponsored) that is at least ten gallons or larger.
Can You Keep Discus Fish in a Community Tank?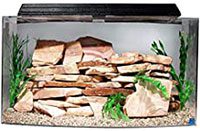 Yes, discus fish thrive in a community tank (sponsored) with other freshwater species. The best partners for discus fish in an aquarium are calm, schooling fish, including species from the characin fish family. This makes it easier to set up a habitat and environment that is compatible and healthy for both species.
What Fish Can be Kept With Discus?
If the conditions in the tank are right, you can keep a wide range of species with discus fish. For instance, rosy tetras are easy to care for and docile in nature, much like the discus. Since they are both laid-back species, there is little incidence of aggression over food or space, making a peaceful community aquarium. Both species thrive in freshwater tanks and similar care.
Can Angelfish Live With Discus?
Angelfish and discus fish can live together in harmony, if aquarists follow a few basic rules. Since discus fish thrive in freshwater tanks, you need to choose an angelfish that also thrives in freshwater. This is not the pairing for a saltwater aquarium.
Also, angelfish can become bossy and a bit aggressive over food around other fish; make sure to allow each fish ample room to get along and have their own space. This may also help prevent angelfish from stealing and eating the discus fish's food at mealtime. When pairing discus and angelfish, keep the water around 80 degrees F, ideally, and at a pH of around 6.5.
Discus fish add visual appeal to your tank, but make sure to get them a mate or integrate fish into community tanks (sponsored) to prevent loneliness or boredom. Use these tips for setting up a community tank that includes discus fish, which bring something fresh and different to an aquarium.