Cats bring so much joy to our lives. From soothing purrs to crazy kitten hijinks, cat ownership is rewarding—not to mention entertaining.
That is, until it's time to scoop the litter box. And if you have multiple cats, you've got your work cut out for you. Trying to keep the box (or boxes) clean enough for all your kitties is no easy feat.
Luckily, there are modern solutions to this problem. An automatic, self-cleaning cat litter box makes life so much better for you and your feline friends. But sorting through all the options can be overwhelming.
That's why we rounded up the best automatic cat litter boxes for multiple cats. Read on to find the perfect fit for your furry friends.
Do Automatic Cat Litter Boxes Smell Less?
Yes, automatic cat litter boxes smell less. All waste is scooped up once your cat steps out. With a regular litter box, it might be hours before you can clean up after kitty and that causes yucky smells for hours, too. An automatic, self-cleaning litter box prevents this problem.
Imagine how quickly the litter box pays for itself—no more shelling out for air freshener every month!
Do Cats Like Automatic Litter Boxes?
Yes, most cats like automatic litter boxes. According to a 2013 study, there are two key details: make sure the litter box has a cover and don't rush the transition.
When your new automatic cat litter box arrives, you'll want to put it to work immediately. Who doesn't love the idea of never having to scoop again? But for the sake of your cats, don't turn it on just yet.
Most kitties need time to adapt to new things—especially when it affects their bathroom. To help your cats adjust, make sure to use the same brand of litter in your new box.
Leave it unplugged for the first week or so, until your fur babies are comfortable with the new arrangement. Then plug it in and turn it on so your cats get familiar with the new sound.
Once that doesn't faze them, you can start enjoying the no-mess, no-stress life with your automatic, self-cleaning litter box.
What Are the Best Automatic Cat Litter Boxes?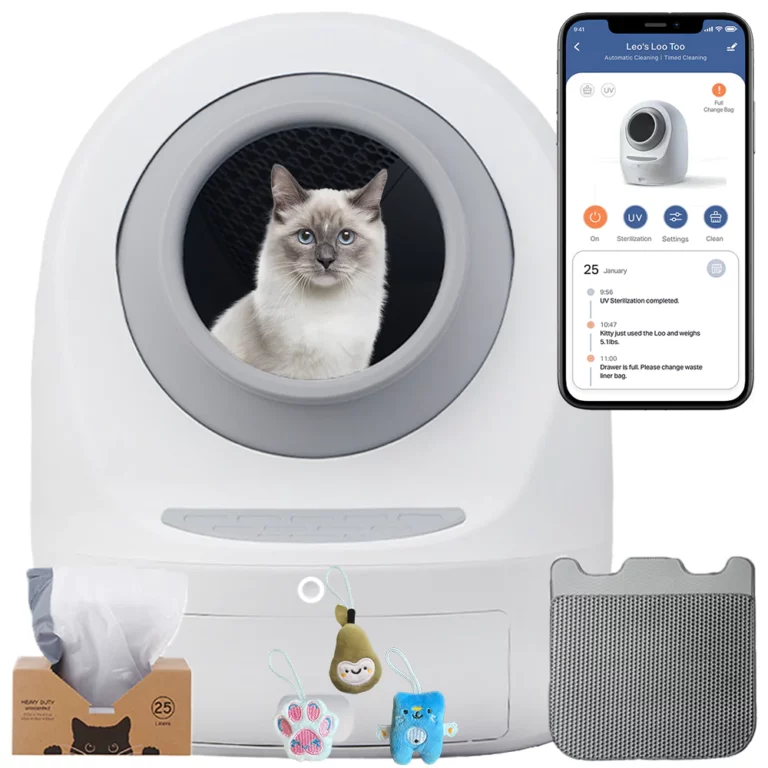 1. Leo's Loo Too Starter Bundle—Leo's Loo Too is the newest addition to the Smarty Pear family. Featuring the most advanced set of features, including Google and Alexa voice controls, a mobile smart home-connected app, triple-layer safety protection, programmable UV light and more, the Leo's Loo Too is a massive step forward for cat families looking for a better alternative to traditional litter boxes. With four fun colors, modern design, larger waste drawer and whisper-quiet motor, we know Leo's Loo Too will improve life for you and your fur baby.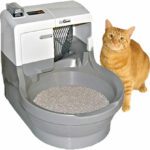 2. Cat Genie Automatic Litter Box—The Cat Genie is more like a toilet for cats. After your kitty does their business, liquids drain through non-absorbing granules and solids are scooped automatically. Then the Cat Genie flushes it all through your toilet or laundry drain. Finally, it runs a wash and dry cycle.
You have to buy the Cat Genie brand of granules, not just any litter. But with a money-back guarantee and two-year warranty, this one-of-a-kind litter box is definitely worth a shot. Just make sure you have space near your toilet or laundry room, since it connects directly to your plumbing.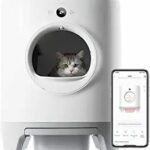 3. Petkit Pura X Automatic Cat Litter Box—This litter box provides the best odor control of any we tested. It has all the same bells and whistles as the Litter-Robot, but it's a smidge cheaper—win-win!
You can customize it to your heart's content using the Petkit app, too. Best of all, it's easily refilled via the litter chute on top. The only downside is that the entry hole is a bit small. Larger cats might struggle to get in and out quickly.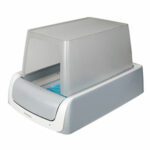 4. ScoopFree Covered Automatic Self Cleaning Cat Litter Box—Thanks to crystal kitty litter, this litter box is a great odor-buster. Crystals absorb liquid and yucky smells instead of clumping like traditional litter does.
But some kitties don't care for crystal litter. And swapping both your litter and box at the same time might be too much change for your feline friends.
The footprint of this litter box is a great size, it's quiet and the app offers remote controls. It's our favorite choice if your cats are already accustomed to crystal litter.
What Is the Best Automatic Litter Box for Multiple Cats?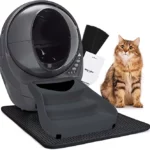 Based on our research and testing, the Whisker Litter-Robot WiFi Enabled Automatic Self-Cleaning Cat Litter Box is the best automatic litter box for multiple cats. It's the most expensive option on our list, but you really do get what you pay for.
The Litter-Robot 4 is chock full of useful features. It locks in dust and odors—the two biggest complaints with any litter box—and it's almost 100% silent. You have to sit right next to it to notice the sound.
Up to four cats can share  one Litter-Robot, and all you have to do is empty the waste receptacle and refill the litter every so often. The opening is wider than any previous Litter-Robot, making it perfect for cats of all sizes. Connecting to the Whisker app lets you track your cats' usage, plus you'll get alerts to empty the receptacle and add litter.
This iteration also has the largest waste container, which means you won't have to empty it very often. The cherry on top? All controls have been moved from the front to the top of the Litter-Robot, making customizations easier than ever.
How Much Is an Automatic Cat Litter Box?
An automatic cat litter box costs between $75 and $650, depending on brand and style. That may seem like a wide range but remember there are different types. An automatic litter box with a cover costs more than one without. The style of scoop factors in, too. Rake-style boxes are more affordable, while the ultra-modern, rotating drum-style (like the Litter-Robot 4), carries a higher price.
The best automatic cat litter box for multiple cats depends on your budget and the size of your kitties. Keep these factors in mind while shopping and you'll be living the scoop-free life in no time!