Most people cringe at the idea of having a litter box. The smell, mess and cost are commonly the foremost thoughts in most peoples' minds regarding litter boxes, but it doesn't have to be that way! Picking the right litter box sets cats and owners up for a healthy and happy environment. And it all starts with careful research.
On the Market Litter Boxes
Finding good cat litter box ideas starts with knowing what you are looking for and comparing your options.
There are tons of retail litter boxes to choose from—ranging from those that focus on containing the smell, self-cleaning boxes and ones that claim to keep the litter inside.
Below are some top recommendations for retail litter boxes:
The most popular litter box design is the simple, hard, plastic boxes. This is a go-to style that fits most cats. See an example here.
this one, can be super beneficial for extra energetic cats that can kick litter out, or male cats who are not neutered.
Don't want to pay that much for a litter box? There are quick and cheap DIY options that can offer similar advantages.
DIY Litter Boxes
A good DIY litter box project can be fun, rewarding and help you save money!
Cut holes in a plastic bin and fill with litter for a quick and cost-effective box. The cover can be used to contain most of the litter and smell inside.
Repurposing old furniture is good for the environment and budgets. Thrift or secondhand stores are an easy and fun avenue to purchase a nice, hidden litter box.
Double storage totes make cleaning the litter box an easy task! Simply take two plastics bins and drill holes on the bottom of one side to shift the clean litter out into the uncut tote.
When push comes to shove, a cardboard box, with a trash bag as the liner, can be a saving factor while searching for a more permanent solution.
Final Thoughts for Picking the Right Litter Box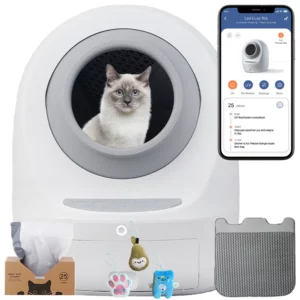 Choosing the right litter box for your furry friend can be the difference between happy cats and potty breaks on the rug. The litter box should be big enough that your cat is able to turn around comfortably and stand. High walls can also help prevent the litter from being kicked out. And a low door is preferred for young cats or felines with mobility issues.