Do rabbits need chew toys? We get asked this question a lot, and the answer is always a big yes.
Rabbits have teeth that are always growing whether they are a few months old or a few years old. So, to keep their teeth from growing out of control, they will always need something to chew on. If nothing is provided to your pet bunny specifically for chewing, like a rabbit toy, she will resort to chewing on something else, such as the bars of her cage or the furniture around your house.
That being said, in order to maintain your bunny's health and the legs of your sofa, you may want to invest in a couple of rabbit toys that are designed to withstand a good chewing. And, though there are a ton of these toys out on the market, there are a few that stand out as the best for rabbits. Or, if you are a crafty person who likes to give homemade toys to your pets, we have some DIY chew toy ideas as well.
The Best Chew Toys for Rabbits' Teeth
Here are some of the top chew toys for rabbits out there today.
Wicker Chew Balls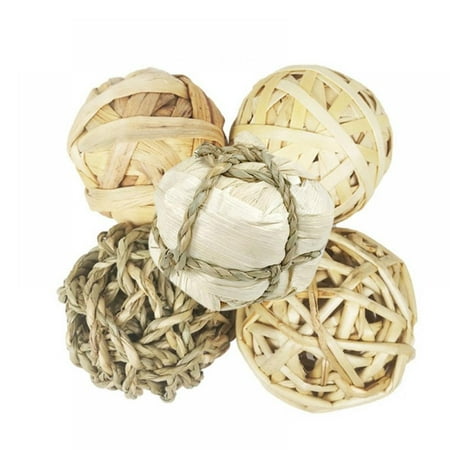 —A variety of different brands offer wicker chewing balls for bunnies, but all are similar in that they use wicker, a type of soft wood, that bunnies can toss around easily.
Willow Bridges
—Wood bridges or tunnels made from willow, a wood that's safe for rabbits to chew, are a popular addition to any rabbit cage. They offer a place for bunnies to hide in and chew on!
The Best DIY Chew Toys for Rabbits
If you'd rather make a couple of chew toys for your rabbit than purchase them, there are plenty of DIY ideas for you to test out, and many use recycled materials or other inexpensive materials that can fit into any budget.
Stuffed Cardboard Rolls—If you happen to have leftover cardboard rolls, particularly the kind that comes from paper towel or toilet paper rolls, you can stuff them with hay or other small treats and toss them to your furry friend. Rabbits love the texture of cardboard, so you can always keep a roll nearby to keep them occupied.
Constructed Cardboard Towers—Again, all bunnies love chewing on cardboard, so the possibilities for building a toy out of cardboard are endless. You could try building a small tower, castle or house out of old packing or shipping boxes. Try cutting out squares and circles in the box to serve as windows and be sure to cut out a door for your rabbit to enter his cardboard palace.
The options are limitless for purchasing or making a chew toy for your rabbit that entertains them and protects your furniture.